Tight Fit Fix "O" Ring by Largest "O" Ring manufacturers in India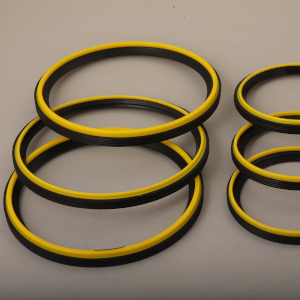 Sizes Available
| Name | Size |
| --- | --- |
| Tight Fit "Fix O Ring" | 50mm |
| Tight Fit "Fix O Ring" | 75mm |
| Tight Fit "Fix O Ring" | 90mm |
| Tight Fit "Fix O Ring" | 110mm |
| Tight Fit "Fix O Ring" | 160mm |
Product Description
The NEO RUBBER PRODUCTS is the best O ring manufacturers in India. And we are proud to introduce a new product named TIGHT FIT under its lable wings NEO RUBBER'S. Tight Fit is a seal that ensures a complete leak proof system is in place. This seal is named Fix O Ring. The yellow-black seal (Fix O Ring) holds itself permanently in the groove and doesn't fall out. The rubber ring ensures leak-proof joints and helps compensate for the thermal expansion and contraction of Plastics.
NEO RUBBER ensures that Fix O Ring is at par with International Standards.
Features
It is being made with advanced co-moulding technology.
It consists of a plastic reinforced rubber ring which holds the Fix O Ring in groove properly, thus ensuring 100% leak proof joints.
It also gives the power to the joints to withstands high-pressure flow rates.
Unlike conventional rubber rings which slip out of the groove during installation, the Fix O Ring holds itself and stays attached to the groove by the plastic reinforcement that enables the joints to become 100% leak proof.
No Solvent Cement required for making joints Cost Effective.
High Flow rates – No chocking.
Accurate and perfect dimensional control.
Jointing Instructions
Measure and cut pipe to size – Ensure to cut pipe square.
Chamfer end of pipe to 10-15 degrees. Remove all burr from pipe with a Knife-edge or deburring tool.
Clean pipe with cloth.
Check the fitting for Yellow seal.
Apply lubricant on chamfered end of pipe & on inner surface of pipe/fitting to be joined.
Push the pipe firmly into the socket – leave about 10mm gap for thermal expansion allowance.